Hidden Treasures
180 High St.




Clinton

,

Massachusetts

1510
City: Clinton
View Hours:
View Hours
This is the Hidden Treasures located in Clinton, MA. Get shopping today and find great prices on products at the Hidden Treasures. Map out the location, find the hours of operation, and view contact info right here.
Report inaccurate information here
Hidden Treasures Information
| | |
| --- | --- |
| Tuesday-Saturday: | 10:00am-4:00pm |
| Friday: | 11:00am-4:00pm |
Additional Information:
Thrift stores like Hidden Treasures allow shoppers to find products like unique clothing, homegoods items, antiques, novelty items, and even furniture at certain stores. Thrift stores are known for their bargain deals on items that you won't be able to find at your local department stores. So shop at Hidden Treasures or any other thrift shop in or around Clinton. You'll be amazed at items that you can find at local thrift and resale shops.
Other Thrift Shops Nearby
Thrifty Articles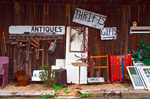 The Thrills of Thrifting
When you're on a budget, thrifting presents a great opportunity to save and engage in activities you may not otherwise be able to afford. Keep an eye out for gently worn designer clothing as well as quality furniture or equipment. If there's a hobby you've...Read More