The Thrills of Thrifting
When some people think of thrift stores, they cringe and conjure images of germ ridden knick knacks and stained ill-fitting jeans. The truth is, thrift stores often have garments and accessories that are in excellent condition.
Of course, it's important to use common sense and pass on items that seem unsanitary or broken, but you should keep an open mind. If you're new to thrift shopping, you may find yourself addicted to the thrill of discovery as you score your next treasure.
Creativity Hub
If you're an artist or someone who's interested in pursuing creative endeavors, a thrift shop can net you an abundance of useful materials and tools.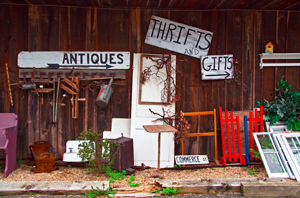 Before investing in expensive craft stores, browse your local second hand shops to see what's available. Whether you have an art project due or you're trying to make the perfect Halloween costume, well organized thrift stores often feature sections devoted to crafts.
You can find everything from paper, paint and fabric to adhesives and knitting supplies. In addition to other common items like beads and yarn, you'd be surprised at what you can find to be used in a project. It's exciting to explore and think of inventive ways to use materials you may not have considered before.
For instance, you can take old garments and repurpose them into something new. A tacky prom dress can be transformed into a costume party knockout, and you don't have to bend to the exorbitant prices of costume shops and party stores.
Treasure Hunting and Peerless Savings
If you've ever seen Antiques Roadshow, you're likely familiar with the shock and awe of an objectively lackluster flea market find being worth thousands of dollars. While the likelihood of making a fortune by hunting for lost antiques in a thrift store may be a long shot, you can still acquire some truly valuable pieces that are unique and often worth more than their price tag, and if not in monetary value then in usefulness or sentimentality. 
When you're on a budget, thrifting presents a great opportunity to save and engage in activities you may not otherwise be able to afford. Keep an eye out for gently worn designer clothing as well as quality furniture or equipment. If there's a hobby you've been interested in trying like skating, it's worth checking out a thrift shop before spending a fortune at a sporting goods store.
Just be careful with clothes and upholstered items. Unfortunately, the bed bug menace can be hiding in fabric or even the nooks and crannies of wood. If you take clothes home, wash them immediately, and consider putting furniture outside for treatment before exposing it to your home.
Decluttering and Donating
If your home is overflowing with clutter, donating to a thrift store can help you commit to parting with items you don't need anymore. Getting organized can be overwhelming, but if you're willing to downsize your collection of stuff, you're likely to feel more relaxed and free in your home and life.
Go through your clothing and consider donating anything that doesn't fit. If you haven't worn it in ages, someone else can make better use of it. The same concept applies to furniture, books, movies and kitchen appliances. If you've been thinking of purging your home and redesigning your space, donating to your local thrift store can be a cathartic experience that will be aiding your community.
So the next time you pass a thrift shop, consider stepping inside for an adventure. Whether it's a chain store or a local business, thrifting can grant you a fun experience. Just remember, when you find something good, you better buy is straight away because chances are another lucky person will swipe it before you return.